Timing
Most publications follow a similar workflow: planning, participant briefings, content writing, layout, revisions, final artwork, printing, and delivery. The more staff participating in a project and the larger the publication, the more difficult it is to keep track of the printing deadline while also meeting all of the content and design criteria.
Create a time schedule
pageplanr makes it simple to construct a clear schedule that not only provides you an accurate estimate of the production status, but also keeps you informed throughout the process.
Simply create a new section for your schedule with the mouse by clicking and dragging in the horizontal light blue bar at the bottom. Give the section a title and, if necessary, a subtitle and save the new section by clicking on save.
Change position and duration of a section simply with the mouse
You can easily move the sections in your schedule with the mouse and also change their width. The sections are automatically arranged in chronological order from top to bottom. If you move a section forward in time, it will automatically move up in the display.
Open and edit a section with a click on it
Double-click on a section to edit its title.
Further options
At the top left you will find three links for the following actions: Scale, Import and Download.
With Scale you can change the display size of the timeline in three steps.
Import allows you to import the schedule of another project. Here you select the project from which the schedule is to be imported and also specify a date that can be set as a start or end date. The selected schedule is then imported and adjusted so that it either starts on the start date or ends on the end date.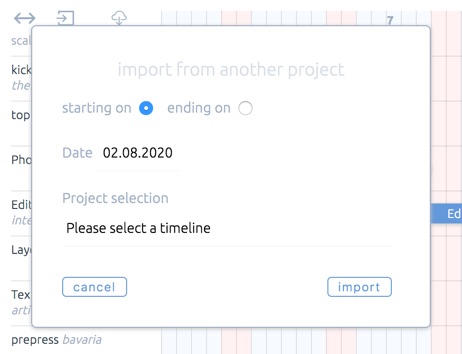 You can download the current status of the schedule as a PDF file via Download.