Ad Management
Overview is the be-all and end-all of good production management in print productions. This naturally also includes an overview of all the ads to be placed. Which formats have to be placed on which pages, and do you already have the relevant print files? With pageplanr, you can easily keep everything under control.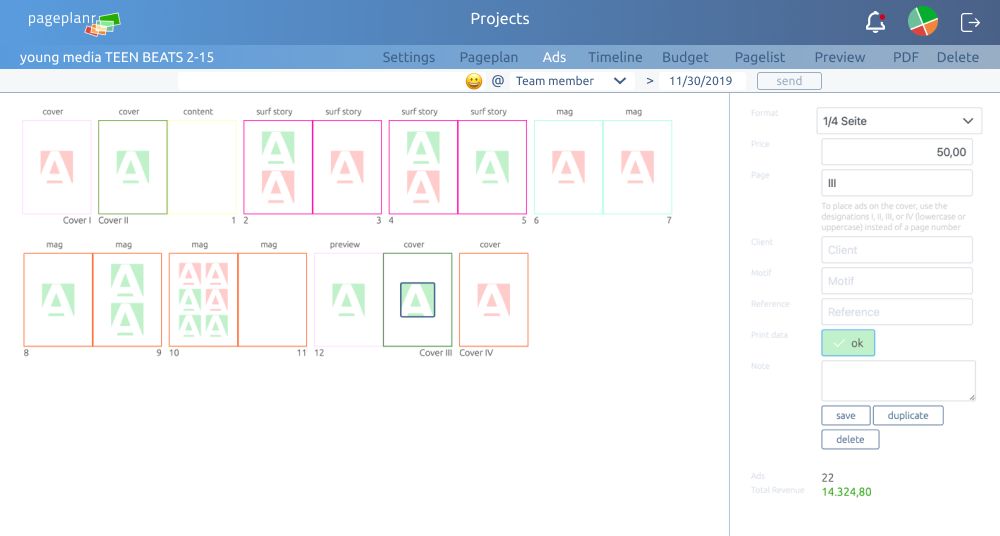 Adding Ads
In the "Ads" module of a project you can see all pages of your project as in the normal page plan. However, here you will not see the page images and types, but all the ads placed on the pages.
To enter new ads and assign them to a page, enter the corresponding data on the right side in the inspector. The ad format and the page on which the ad is to be placed are mandatory entries. In addition, you can also enter information about the ad price, the customer and the motif. Sometimes there are also reference numbers for the ad order, which you can also enter here for better assignment. And finally you can also enter notes, for example production notes or similar.
Ad Formats
Most ad formats are standardized and you can create as many ad formats as you want in your account settings with the the corresponding sales price as templates. You can then select these templates here in the ad inspector from a drop-down list, so that you can quickly make a selection and do not have to manually enter ad formats every time. Instead of selecting one of the possible templates, you can of course also enter any format manually.
create an ad with a template
that brings in the format and the corresponding price
create an ad without a template (just enter any format and price)
In the page plan all entered ads are displayed on the pages to which they have been assigned to. The size of the ad icons displayed on the pages says nothing about their actual format, but the size of the display is only adapted to the available space on the page. The more ads there are on a page, the smaller the display of the ad icons will be.
If you move the mouse over one of the ad icons, you will see its format, customer and motif after a short moment.
Edit Ads
If you click on an ad, you can edit its data on the right side in the inspector or delete the ad completely. You can also duplicate the ad and thus simplify the input of new ads even further.
Under the inspector on the right, you will see the total number of advertisements as well as the sum of the advertisement prices.
Budget and page list
All placed ads will be displayed with the corresponding pages also in the budget (including prices and marked with an "A" at the end of the line) and in the page list (there with the details of the customer and motif).